TSIVLOS: Hilly village of the community of Platanos Aighialia in the northern, overgrown with fir trees slopes of AROANIA mountains (Chelmos) and in the southeast of the Monastery of the Great Cave. An oasis of unique beauty, at an altitude of 780m., reflected lazily in the calm waters of the homonymous lake. Enthusiastic visitors say that this area excels that of a Swiss landscape.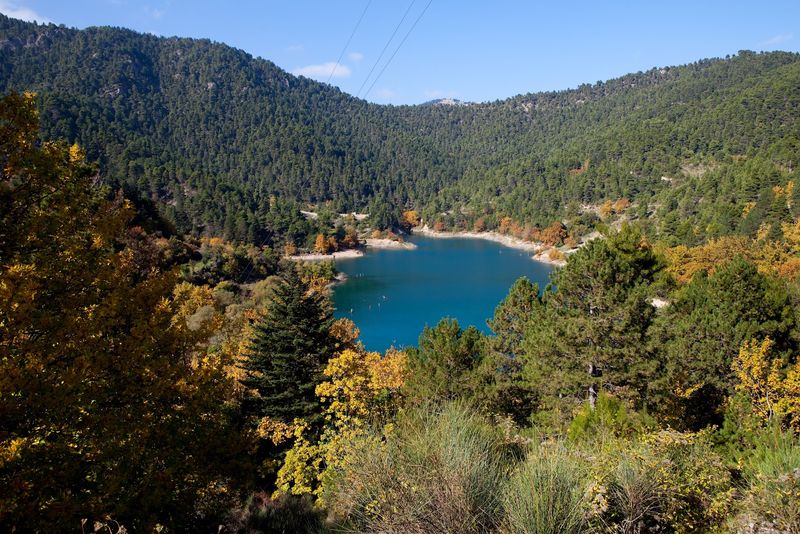 LAKE TSIVLOS: Surface basin, 80,000 sq. measures. Average annual rainfall basin, 1345 mm. Usable storage capacity, 550.000 k.m. Maximum depth 92m.

The lake was created in 1912, with the most unexpected way. A huge landslide that caused the destruction of the populous village of Sylivaina, (hill of Gerakaria or Neraidorahi) resulted to the clog of the riverbed Krathis. The catastrophe's aftermath included, among many ruins, the burry of a part of the settlement and the destruction of 12 picturesque fountains and the church of Saint Barbara. But having suffered this misfortune, the nature created a miracle to restore the injustice.
The lake is fed by the river and the snow of Chelmos mountain, adding sips of immortal water of Styx. And when enough capacity of water is concentrated in the lake, the rest becomes free to move forward offering movement to the Hydroelectric Station "Tsivlos".
The water, foamed and defused upon fulfillment of the debt to the impeller of the station, follows the path of no return to the Corinthian Gulf, through Krathis River.
Although a new lake, Tsivlos is already a specialized world of flora and fauna and for that reason it became protected and designated as NATURA area.