ASSOCIATION OF VOLUNTEER FIREFIGHTERS OF PLATANOS "PEGASUS"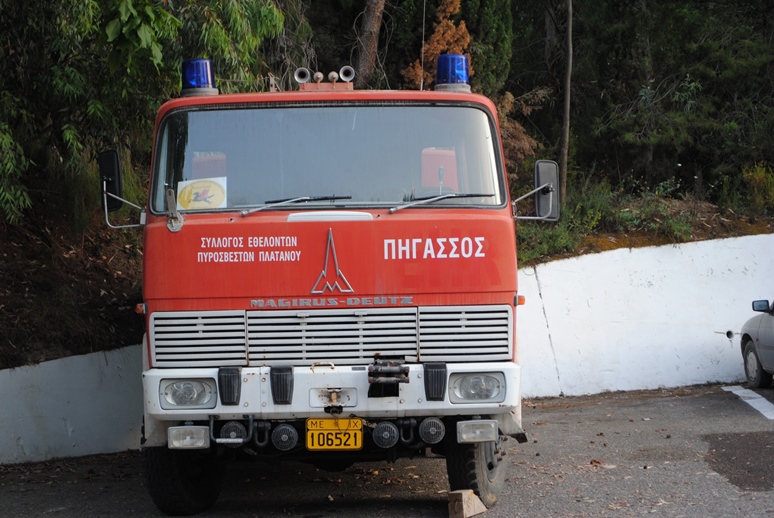 In 2008, after the fiery destruction that preceded, a group of Platanos residents founded the Association of Volunteer Firefighters Of Platanos "PEGASUS" with the primary objective to protect Platanos and the surrounding area.
The first members of the association managed to gather a respectable amount of money coming mainly from two donors, ALEKO SIAFLA and JOHN BALASOPOULOS and so bought the first fire truck worthy of the big fire trucks.
The first board of directors had the luck to elect as president DIMITRIS SAKELAROPOULOS who had unlimited knowledge in fire prevention and fire suppression issues and together with the first board members MOUTZOURELI TOYA VASILIKI, SMIRNIOTIS CHRISTOS, SAKELAROPOULOS SOTIRIS and GERONDATI CRISTO, created and organized the association.
The baton took the next Board comprising of ZAFEIROPOULOU VASILIKI, NASKOS CHARALAMBOS, STERGIOPOULOS IRAKLIS [who sadly passed away soon] MANTAS DIONYSIS, GERONDATI CRISTO and SAKELAROPOULOS SOTIRIS, which continued the work of the association and managed to increase its resources with another small and versatile fire truck.
The association is currently in its fourth term with board members MANTAS DIONYSIS, REKOUTIS ANDREAS, PAPADOPOULOS GEORGE, MOUTZOURELI TOYA VASILIKI and PAPADAKIS SPARTACUS.
The activities of the association are both repressive and preventive. "Pegasus" has participated in several extinguish operations in eg. GOUMENIKA, EXOHI, KAMAROVRYSI etc. and in constant summer patrols.
The work of the association does not stop here. He ensures the cleanliness of the village, cuts dry grass, built the fountain of CAVRIA on the eastern entrance of the village etc.
Finally, the association is a group of volunteers acting under the CIVIL PROTECTION policy and also by his own initiative and IS ALWAYS READY FOR EVERY NEED.